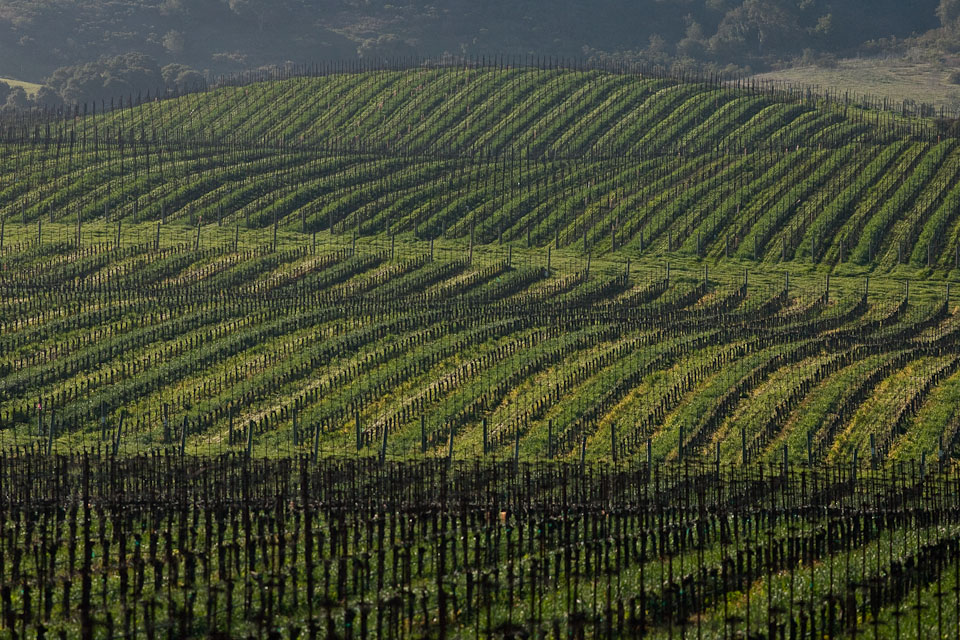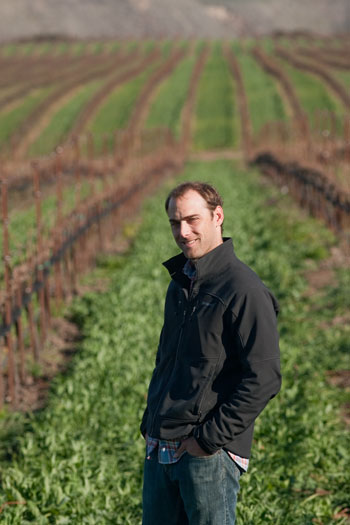 I met with Justin Willett of Tyler Winery on a Friday in late February and he gave me an excellent history lesson on how the area became known for pinot noir starting back in the early 1970s at the Sanford and Benedict vineyards. He showed me the La Encantada vineyard, which he uses for his wines, as well as pointed out all of the vineyards in sight along Santa Rosa Road near Buellton.
What I learned is that the proximity to the Pacific Ocean, the relatively stable temperature of the region and the composition of the soil all contribute to the unique growing conditions of the area, resulting in some favorable characteristics in the pinot noir and chardonnay grapes.
My lesson on the region continued a couple of days later when I met up with Sashi Moorman, the winemaker for Evening Land Vineyards. Moorman took me to some vineyards on the windswept hills along Sweeney Road in Lompoc.
From the higher vantage point I could clearly see how the appellation populates the valley. After taking in the panoramic scene, Moorman then directed me to the soil around a row of pinot noir vines planted four years earlier. It looked like a bed of white rocks, not the rich sandy soil I am accustomed to seeing in other vineyards. Moorman said that locals call the diatomaceous earth"chalk rock" and pinot noir seems to thrive in this stuff. But in this part of the appellation, the vines don't grow as robust as they would in other conditions. Because of this, Moorman was able to plant 7,000 vines per acre.
Moorman doesn't just limit himself to grapes, he pointed out a plot of land where he grows wheat and has plans to make his own bread in the tasting room of his own wine label, Piedrasassi New Vineland Winery.
I learned a lot about the region during my two recent visits but I learned even more once I read the story Jon Bonné wrote for the San Francisco Chronicle titled, "A Dramatic new chapter for Santa Rita Hills". The story was published on the SFGate website on March 2, 2012 and it also appeared on the front page of the Food section of the Sunday paper on March 4, 2012. Eight of my pictures ran with the story on SFGate and three photos appeared with the Sunday printed edition.